WISE Manufacturing – Powders and Ingredients Management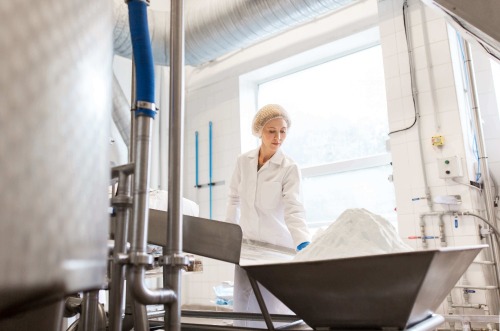 Traceability is the WISE MES set of solutions used to record the key aspects of Powders and Ingredients Management.
WISE MES Bulk Production and Ingredients Preparation Modules manage your Small Batch Manufacturing activities scalable right up to Bulk Batch Manufacturing. Internal Batch Allocation and traceability of all key activities and quality checks ensure that processes are executed to repeatable standard.
As the system leads the correct process workflows and business rules in the course of actual operations, and in real-time, this ensures both production efficiency and the guarantee that quality of process & data are achieved.
The possibility of reference to a specific powder batch in a trace-back scenario, further allows for subsequent Production or Quality decisions and Customer Feedback Management.
Key Functionality Objectives
For Small Batch Operations, this includes:

Ingredients Batch preparation
Recipes, BOM
Weighing Charts
Ingredients Shopping
Ingredients Weighing processes
Real-time Quality checks and warnings
Tolerance Management
Small Batch component barcode labelling (for later Scanned Tipping)
Small Batch barcode labelling
Weighing scales interfaces and management
Batch Reconciliation
Crate Labelling
Allocation to Bulk Batches
Reallocations and full activity audit.

For Bulk Batch Operations, this includes:

Bulk Batch preparation
Recipes
BOM
Sequencing and Tipping Locations
Tolerances
Materials Tipping and Dosing
Small Batch Tipping and Dosing
Real-time Quality Checks and warnings
Potency
Direct Scales Interfaces
Formulation and Automation
Powder Intake and Automation
Bulk Bag / Unit Filling and Barcode Labelling
Production Declaration
WMS Integration
ERP Integration
Batch Reconciliation
Mass Balance
Rework Management
Blending Management, Integrations and full activity audit.